Fussball
FUSSBALL (DEUTSCH)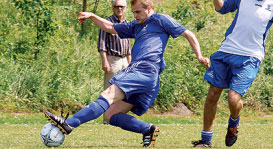 Unsere Sparte existiert seit 1960 und ist damit die Gründungssparte der Airbus Sportgemeinschaft Hamburg. Derzeit sind bei uns vier Mannschaften mit
165 Spielern in unterschiedlichen Altersklassen aktiv. Alle Teams spielen in der Punkt- und Pokalrunde des Betriebssportsverbandes Hamburg.
Leider können wir im Sommer kein Training anbieten, da Airbus über keine Anlage verfügt. Im Winter mieten wir uns daher in der Soccerhalle Neugraben wöchentlich einen Platz zum Trainieren. Unsere Heimspiele tragen wir in Cranz aus; bei den Auswärtsspielen sind wir in ganz Hamburg unterwegs.
Die Highlights für unsere Sparte sind die Turniere, darunter die Airbus Sportfeste – 2015 waren wir in Varel – und auf Turnieren im Airbusverbund.
Regelmäßig sind wir auch bei internationalen Turnieren vertreten. Im Juni 2015 haben wir z.B. an dem internationalen Fußballturnier in Prag mit einer Mannschaft teilgenommen.
Für unsere Teams suchen wir noch interessierte Spieler zwischen 18 und 50 Jahren.
SOCCER (ENGLISH)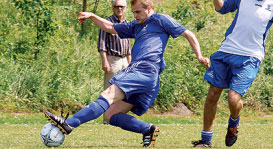 Our football group has existed since 1960 and is the founder member of the Airbus Hamburg Sports Association. Today, we have four teams and 165
active players in different age groups. All teams play in the League and Cup matches for the Companies Association league in Hamburg.
Unfortunately, we cannot offer any outdoor training in the summer because Airbus has no football pitch. Inthe winter we have rented a soccer hall in Neugraben to train weekly. We play our home games in Cranz; and away games take place all over Hamburg. The highlights for our group are the tournaments, including the Airbus sports events – 2015 we were in Varel – and tournaments in the Airbus group.
We are regularly represented at international championships. For example, In June 2015, we have participated with a team at the international tournament in Prague.
For our teams, we are looking for interested players between 18 and 50 years of age.