AZUBI Sport
AZUBI Sport (DEUTSCH)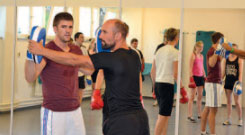 Für Auszubildende und Studierende in den Dualen Studiengängen, die sich nach Feierabend sportlich betätigen wollen, bieten wir verschiedene Kurse an –direkt nach der Arbeitszeit und vor Ort.
Im Sportkurs "Young Fitness" können die Auszubildenden mitgestalten, was sie machen wollen. Zur Wahl stehen u.a. Zirkeltraining, Langhanteltraining oder Functional Training. Hierbei werden die Muskeln erwärmt, aktiviert und schließlich mit gezielten Übungen gekräftigt und gedehnt.
Außerdem bieten wir Kickboxen an, das vom dreifachen Kickbox-Weltmeister Achmed Nabo geleitet wird. Da der Kurs so beliebt ist, gibt es ab und an einige Zusatztermine mit einem anderen erfahrenen Kickbox Trainer.
Darüber hinaus stehen Sportkurse wie Aikido, Bogenschießen und Judo zur Auswahl.
Die Azubi-Sparte wurde im Jahr 2013 gegründet und hat 40 Mitglieder. Sie trainieren im Raum "Air Jordan" in Haus 20.
TRAINEE SPORT (ENGLISH)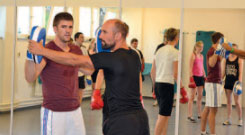 We offer various courses for trainees and students in the dual degree programs who want to participate in sport after work. – directly after working hours and on the spot.

In the sport courses "Young Fitness", the trainees can decide themselves what sport art they would like to do. Different options are available such as circuit training, barbell training or functional training. The muscles are warmed up and finally strengthened with targeted exercises and stretching. Also, we offer kick boxing, which is headed by the triple kick boxing world champion Achmed Nabo. Because the course is so popular, there are some additional dates with other experienced Kickboxing trainers.
In addition, other sports courses like Aikido, archery and judo are available.

The apprentice group was founded in the year 2013 and has 40 members. The training takes place in building 20, in the room "Air Jordan".