Badminton
BADMINTON (DEUTSCH)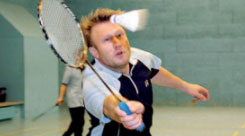 In der Sparte Badminton sind aktuell ca. 45 Sportler aktiv. Die Zusammensetzung der Spieler ist bunt und international. Vom Hobbyspieler bis hin zum ambitionierten Ligaspieler kommen unsere Mitglieder aus vielen verschiedenen Ländern.

Durch Kooperationen mit anderen Badmintonvereinen bieten sich zahlreiche Trainingsmöglichkeiten in und um Hamburg. Vornehmlich trainieren wir jedoch mittwochs von 17.30 bis 21.30 Uhr in der Sporthalle Grumbrechtstraße 63 in Hamburg-Harburg.

Unsere Mitglieder nehmen regelmäßig an diversen Turnieren teil, seien es nationale oder internationale Airbus-Turniere, Freizeitwettkämpfe oder auch Einladungsturniere anderer Badmintonvereine. Seit der Saison 2013/2014 nimmt die Sparte Badminton mit zwei Mannschaften am Punktspielbetrieb des Betriebssportverbandes Hamburg teil.
Trotz allen Ehrgeizes stehen Fairness, der Spaß am Badminton und die Freude, mit anderen Spielern gemeinsam Zeit zu verbringen, an allererster Stelle!
Zu einer Schnupperstunde ist jeder herzlich willkommen.
BADMINTON (ENGLISH)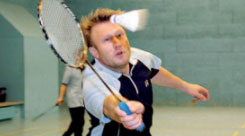 Currently there are approximately 45 members actively playing badminton. The background of the players is wide and international, from hobby players to the ambitious League players. Our members come from many different countries.

Through collaborations with other badminton clubs many training opportunities are given around Hamburg. We train primarily in the gymnasium in Hamburg Harburg, Grumbrechtstraße 63, every Wednesday, from 5:30pm to 9:30pm.
Our members regularly participate in various tournaments, be it national or international Airbus tournaments, recreational competitions or even invitation tournaments of other badminton clubs. Since the season of 2013/2014, the badminton group has been playing with two teams in the league of the Hamburg Company Sport Association.
In spite of all the competitions the most important things are fairness, the fun of badminton, and the pleasure to spend time together with other players!
Everybody is welcome to a trial session.
What's up with Badminton

Bad or not Bad, .....
If you already played or if you want to discover, Badminton is simply fun. So do not hesitate and come along, have a look and finally join us. For the moment we are around 45 people, which makes it possible to declare 2 teams to the sportcouncil. In addition, we participate regularly to World Company Sporting Games and European Company Sporting Games. As we are pretty international with players from Germany, France, China, Vietnam, India... Whatever your mother tongue, we can handle!

Guests staying in Hamburg for a limited period of time (interns, students,...) are also welcome.
If you have any question, have a look under "Ansprechpartner".
Due to a limited capacity of courts, and in order to coordinate at best, it is important to contact Udo Schäftner or Wolfgang Hahn even for trial sessions.
We apologize not to be able to provide training for teenagers for the time being.
The way to our Gym, Grumbrechstr. 63 in HH-Harburg
by car
Easy... type the address in your Navi!
For those without navigation system (can happen), use the good old method: print out Google Map !
by bus
Bus 146 from Airbus Main Gate
until bus stop Eißendorfer Pferdeweg for Training "Grumbrechstrasse"
http://www.hvv.de/
by bike
Distances from Airbus Main Gate (reference Google Maps / avoiding highway A7!) to Grumbrechstrasse 63: ~ 15km