Golf
GOLF (DEUTSCH)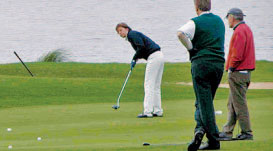 Auch die Airbus Golfsparte umfasst inzwischen 120 aktive Mitglieder, denen es um drei Dinge geht:
Wettbewerb: Mit Kollegen der eigenen Firma geht es in einem Mannschaftswettkampf gegen andere Firmen. Entweder nur so zum Spaß an der Freude oder im Kampf um die Hamburger Betriebssportmeisterschaft.


Networking: Mit über 12.000 Mitarbeitern in Finkenwerder und 400 potentiellen Golfspielern kann man mit der Airbus Sportgemeinschaft viele neue Leute am selben Ort kennenlernen. Dafür ist das Afterwork Golf wie geschaffen!


Work-Life-Balance: Um auch genügend Abwechslung von stressigen Arbeitstagen zu haben, bietet die Sportgemeinschaft (SG) bis zu 16 Tuniere im Jahr und Afterwork-Golf im zwei-Wochen-Rhythmus an. Golfreisen über ein verlängertes Wochenende mit gemeinsamen Trainerstunden sind im Angebot der SG zu finden.
GOLF (ENGLISH)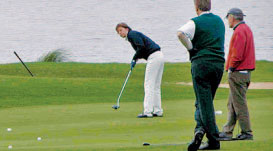 The Airbus Golf group consist of 120 active players who are concerned about three main subjects:
Competition: With colleagues from the company in a team against other companies, either just for the fun and joy or in the struggle for the Hamburg Company Sports Association Championship.


Networking: With over 12,000 employees in Finkenwerder and 400 potential golfers you can meet lots of new people at the same location with the Airbus
Sports Association. For this purpose, golf after work is perfect!


Work-life balance: To have enough change from your stressful working days, also the Sports Association (SG) offers up to 16 tournaments a year and After-work golf every other week. Golf trips over a long weekend with joint training sessions can be found at SG's offer.