Motorrad
MOTORRAD (DEUTSCH)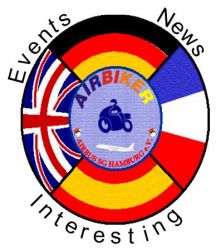 Die AIRBIKER-Sparte hat sich im Frühjahr 2001 gegründet und ist inzwischen 68 Mitglieder stark.
Wir treffen uns jeden ersten Mittwoch im Monat ab 16 Uhr zum Stammtisch in Bundt's Gartenrestaurant in Neuenfelde.
Wir veranstalten für Mitglieder und Interessierte:
Motorrad-Sicherheitstraining (im Werk)
Kurventraining (Heidbergring/Padborgring)
Erste-Hilfe-Kurse (bei der Werkfeuerwehr)
Seit 2004 organisieren wir ein jährliches, internationales Motorradtreffen (Get Together) mit den Kollegen aus Deutschland, Frankreich, Großbritannien und Spanien. Jeden Herbst gibt es außerdem ein Motorrad-Treffen mit Kollegen aus den deutschen Standorten (NOR, VAR, BRE, STD, AUG, SCHROBH, LAUP).

In der Saison treffen sich interessierte Biker einmal im Monat zu einer Ausfahrt. Zusätzlich pflegen wir Kontakte zu verschiedenen Betriebssport-Motorrad-
Gruppen.
Im Winter gibt es zahlreiche Unternehmungen wie z.B. eine BMW-Werksbesichtigung oder der Besuch der Hamburger Motorradtage, aber auch Eislaufen
oder Brunch.
Wir freuen uns über jedes neue Gesicht.
MOTORCYCLE (ENGLISH)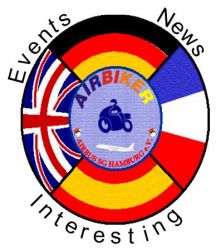 The AIRBIKERs were established in the spring of 2001 and have 68 members now. The AIRBIKERS have a get-together every first Wednesday in the month. They meet from 4pm, in Bundt's garden restaurant in Neuenfelde.
We organize for members and other interested parties:
motorcycle safety training (at the factory)
curve training (Heidbergring/Padborgring)
first aid courses (works fire brigade).
Since 2004 we organize an annual, international motorcycle meeting (get together) with colleagues from Germany, France, Great Britain and Spain.
Every autumn there is also a motorcycle meeting with colleagues from the German sites (NOR, VAR, BRE, STD, AUG, SCHROBH, LAUP). During the season interested bikers meet up once a month to go for a joy ride. In addition, we maintain contacts with various operating sport-motorcycle groups.
In the winter, there are various excursions such as BMW factory tour or a visit of the Hamburg days of Moto cycling, but also ice skating or meeting for a brunch!

We are looking forward to every new face!