Tauchen
TAUCHEN (DEUTSCH)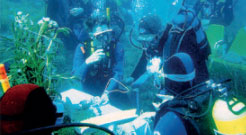 Die Tauchsportgruppe der Airbus Sportgemeinschaft Hamburg wurde 1977 gegründet und besteht aus derzeit 103 Taucherinnen und Tauchern. Zu uns gehören sowohl interne als auch externe begeisterte Taucherinnen und Taucher.
Unsere erfahrenen Tauchlehrer bilden nach den Richtlinien des Verbandes deutscher Tauchsportler (VDST) für alle Tauchscheinstufen bis hin zum GDL 3-Sterne-Taucher (DTSA ***) aus.
Unter Berücksichtigung der 2-G-Plus-Regeln wird das Training im Hallenbad Buxtehude ab Donnerstag, d. 13. Januar 2022 wieder aufgenommen.
Unter Berücksichtigung der 2-G-Plus-Regeln wird das Training im Hallenbad Finkenwerder ab Montag, d. 10. Januar 2022 wieder aufgenommen.
Weitere Einzelheiten können gerne den Folgezeiten entnommen werden (Stand: 05.01.2022).
Die Sparte freut sich über neue und erfahrene oder hieran interessierte Sporttaucherinnen und Sporttaucher die zukünftig mit uns "abtauchen" möchten.
DIVING (ENGLISH)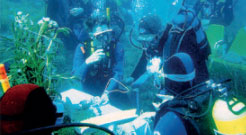 The diving group of the Airbus Hamburg Sports Association was founded in 1977 and has currently 102 members. We include both internal as well as external enthusiastic female and male divers.
Our experienced instructors train in accordance with the guidelines of the Union of German scuba divers (VDST) for all levels of diving license up to the 3-star
divers (DTSA). We gladly assist the training of people with disabilities.
Between September and May we train every Monday from 7pm until 9:30pm at the swimming pool in Hamburg-Finkenwerder and Fridays from 6:30pm until 8pm at the pool in Buxtehude. We offer our members year-round joint trips abroad. Special courses for advanced training are also on the program.

In addition to that the members get together at different diving spots to go diving and to exchange experiences.

The diving group welcomes every new member.